These last months I have had the opportunity to teach several beginners FreeMotion Quilting workshops. Preparing for these classes meant going through my quilt sampler book and looking through my quilts and the books I have collected on FMQ.
All this inspired me to create a inspirational sampler specially for this beginners class that I could use besides the the class samples and the pages from the older sampler book. I will be adding this new sampler to the class samples for this workshops from now on.
I wanted a freestyle sampler, meaning a sampler where the quilting does it own thing. One that would show that you don't need to know complex FMQ patterns to create a beautiful quilt. (I was inspired by the Wholecloth class on Craftsy (non-affiliated link). Amongst other things, I picked up tips on how to build up your different threads.)
The students from my beginners workshop worked from the class examples I had. The new sampler is meant as inspirational piece to show that simple quilting can create very complex looking quilts. 
As a backdrop for the quilting patterns, I chose to use several fabric colors instead of just one like in a wholecloth quilt. I selected a layer cake of Moda's Grunge. It looks like a solid, but there are many "brush strokes" of other colors on each background. The minute I spotted it in my local quilt store, I adored it!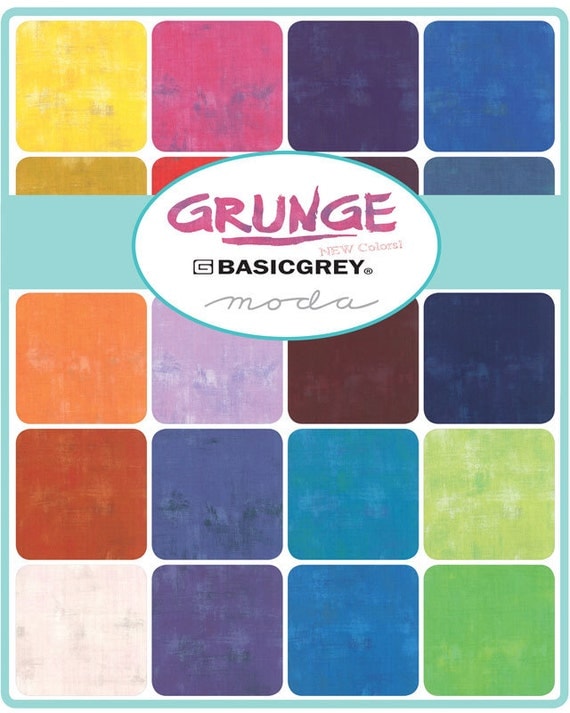 I pieced a simple four patch and added a grey border.
And smothered it with quilting!
I drew circles with a craft ruler I picked up in a paper shop. For the larger circles I used the Fine Line longarm rulers from Accent in Design (non-affiliated link). These turn out to handy for marking a drawing too! I didn't use the rulers for quilting here, I just used the regular freemotion foot on the Janome 7700.
You may spot the faint white lines on the grey. These are marks left my black Frixion pen. I haven't washed this quilt yet, and I do hope these will come out. If not… lesson learned!  (The marks are not visible on the colored fabric)
To fill the quilt, I only used the FMQ patterns from the beginners class I taught.
I purposely used all different kinds of threads (cotton, polyester) and colors in this quilt. All to show my students what the effect of matching thread is versus the contrasting thread.
When all the dense quilting was done, I decided that the quilt needed some more contrast and something like a focal point. I added metallic thread on the outsides of most of the circles and even some metallic pebbles got thrown in.
As you can see, I built up the metallic thread quite heavily. I like it that way!
( I wrote a bit on working with metallics in this blogpost. )
After all that stitching, I changed my sewing machine foot for the regular acufeed sewing foot (similar to a walking foot system) and put in a very large needle (100/16). I used a decorative stitch to highlight the Wonderfil Accent variegated thread in blues and greens (like peacock colors). In the picture underneath you can see the emerald green crossing over the silver.
All this did the trick! Please compare the before and after picture:
After going through a pile of fabrics to select a binding fabric, I picked out a very light grey fabric that has some silver sparkle on it. I chose it because it highlights the silver metallic threads in the quilt. It really is lovely in real life, but as always, the glitz can not be photographed. It just won't show on camera.
I used three strips of 1,25″ WOF for the binding. It is the width I prefer for a single binding.
I hand stitched it to the back after I put the label on (also hand sewn on). On the back I also added a thin sleeve for a wooden dowel.
This beauty now hangs in pride of place in my sewing room and will be taken to my next FMQ class in a week and a half.
I hope you can find time to do some FMQ too and remember that simple FMQ patterns can have a BIG impact!
Hugs
Esther
p.s. Linking up with:
Crazy Mom Quilts for Finish it up Friday
Confessions of a Fabric Addict for Can I get a Whoop Whoop?